---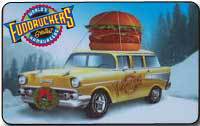 Save 15.0%
Making the world happy, one great burger at a time.
Some people are driven to create the world's fastest cars or the world's tallest buildings. Our calling is only slightly less glamorous but a whole lot tastier. We were born to create the World's Greatest Hamburgers®.
Better Beef. Better Buns. Better Burger.
*** This is a physical gift card, sent USPS First Class Mail, and typically arrives in 3 - 7 business days. ***